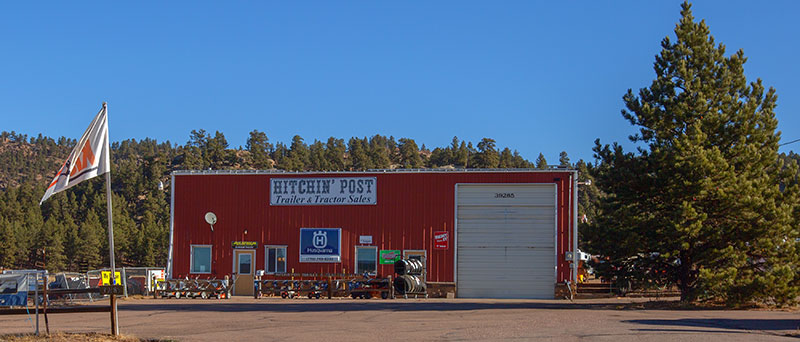 END OF YEAR CLEARANCE SALE
LOW PRICES ON TRACTORS UTVS & TRAILERS
Thanks for visiting our website! Are you thinking of buying a tractor? Hitchin' Post carries a selection of 24 to 60 horse power KIOTI (coyote) compact tractors with 4-wheel drive, rear differential and gear or hydrostatic transmission. All our tractor purchases come with a front loader, engine block heater, rear wheel ballast and a rear grader or box blade PLUS free delivery anywhere in Colorado. A KIOTI tractor is equivalent to a Kubota or a Deere in performance but superior to these competitors when you evaluate the tractor, components and the price. This month Hitchin' Post has super LOW prices on their KIOTI tractors because we are offering an additional $1000 off every tractor purchase. If you pay cash, you get a FREE front loader discount plus $1000. If you decide to go with 0% or low interest rate financing then take the $1000 off the list price. It is an excellent time to get a tractor and Hitchin' Post's qualified staff can assist you with all of your questions. Please check our prices and come out to DRIVE a superior KIOTI tractor.
Hitchin' Post is having a huge CLEARANCE SALE on trailers. We are lowering the prices on a selection of trailers PLUS offering free spare tires with your purchase. This is a huge savings depending on the open or enclosed trailer that you need. Hitchin' Post has aluminum utility trailers by Aluma such as the 7814ST or 5410. Our steel line of trailers come from Liberty and include 20' car haulers and 5'x 8' utility's on sale. Need a cargo trailer? We carry Wells Cargo in a variety of widths and lengths. These trailers are ideal for moving or hauling your ATV. Our Road Force 5' x 10' is only $4995 OR the Fast Trac 7' x 14' is priced at $7995 PLUS there is many more on sale. Give us a call with questions and check out all of our inventory with the CLEARANCE PRICES. Don't miss this sale!
10% OFF all Husqvarna chainsaws – SUPER LOW PRICE! Husqvarna produces superior chainsaws and Hitchin' Post has a nice selection of saws such as 440's, 445's, Ranchers and professional saws such as 372's and 572's. We carry files, wedges, spark plugs, gloves, glasses, Forestry Helmet, fuel, oil, and safety clothing. Hitchin' Post recently received 25 Ton log splitters by POWERKNX which are available for purchase at $1685. You don't have to make a trip to the Springs for high quality, affordable equipment. Come to Hitchin' Post!
Does your KIOTI tractor need service? We now have a service truck and this reduces the COST to you. Hitchin' Post travels out to your tractor, services the tractor with fresh fluids, filters and grease at reduced down time to you and of course reduced transportation cost. What a deal! Additionally, if your KIOTI tractor is not running well, give us a call and the service mechanic can assess what will be needed to repair the tractor in the field or in our shop. We are excited to assist you in servicing or repairing your KIOTI tractor. Call with questions or to schedule!
Don't forget Hitchin' Post Rentals – regarding trailer rentals, we have a 14' dump trailer PLUS a 20' Deckover flatbed for hay or equipment hauling that just became available. Other trailers for rent include a 6x12 open utility, 18' TA flatbed, 18' TA Stock or a 6x12 enclosed trailer. Additionally, we have a 30 ton log splitter which makes getting your wood split an easy task. Hitchin' Post Rentals is the place to rent quality equipment at really affordable prices.
Hitchin' Post Trailer & Tractor Sales is located in Lake George and has assisted the Woodland Park, Divide, Buena Vista, Salida, Fairplay and Colorado Springs area for over 20 years. We have superior products at affordable prices and strive to provide high quality repair and service. Our staff is friendly and knowledgeable - give us a call, send us an email, like us on Facebook!
Thanks for reading, Deb Reuter (owner)