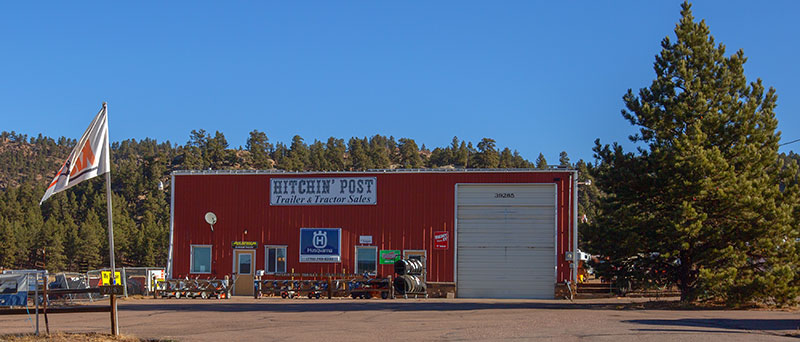 SPRING SPECIALS
Welcome to our website! Spring is here and it's time to consider a tractor. We have 24 to 60 horse power Kioti (coyote) tractors with 4 wheel drive, rear differential and gear or hydrostatic transmission. The tractors come with front loaders, rear implements and front bucket attachments such as a triple bale spear or pallet forks. We also have some great deals on trailer / tractor packages. This is an ideal way to get all the implements that you need and an 18' flatbed trailer to haul everything. Kioti is offering large cash discounts or 0% financing for 60 months. Hitchin' Post has FREE DELIVERY anywhere in Colorado. Please consider us when evaluating a tractor purchase and come out to DRIVE a superior Kioti tractor.
Hitchin' Post has received their spring order of steel and aluminum utility trailers from Midsota and Aluma. The Midsota line is high quality, solid side ATV trailers – perfect for 1 or 2 ATV's and hauling other stuff such as firewood, building materials or rock. Aluma trailers are constructed with aluminum. These superior trailers are strong, light weight and maintain their value for years PLUS constructed in the U.S. Hitchin' Post has a nice selection of sizes and styles – check the website for something to fit your need.
It's time for Spring maintenance on your trailers or tractors. Hitchin' Post is offering $25 off all trailer inspections which brings the single axle price to $125 and the dual axle $185. This includes electrical inspection, grease bearings, new seals and a new breakaway battery. Need a service on your tractor? We are offering FREE transportation within 10 miles (tractor must run). Give us a call and we will come get your tractor, perform a service for the hours on it and bring it back to your home. Get your equipment ready for the summer - don't miss these specials!
Don't forget Hitchin' Post Rentals – we have a 34HP Kioti tractor with a front loader and rear rotary mower, blade or auger for rent. This is an excellent way to get your spring projects done and see a high quality tractor in action. We also have a backhoe attachment for rent – check out the rental website for pictures and rates. If you need to haul things, we rent these trailers – 6x12 utility, 18' flatbed, 14' dump or an 18' stock. Additionally, this summer we are renting tools such as a zero turn mower, rototiller, log splitter, brush trimmer, power washer and push mower. Get everything accomplished this Spring with Hitchin' Post rentals!
Hitchin' Post is located in Lake George and has assisted the Woodland Park, Divide, Buena Vista, Salida, Fairplay and Colorado Springs area for over 15 years. We have superior products at affordable prices and strive to provide high quality repair and service. Our staff is friendly and knowledgeable - give us a call, send us an email, like us on Facebook!
Thanks for reading, Deb Reuter (owner)