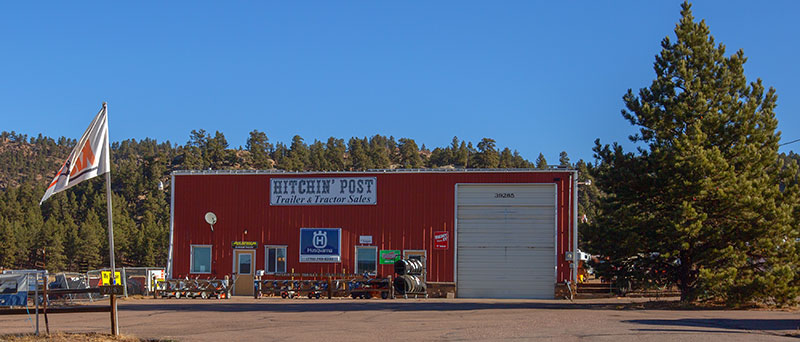 HAPPY NEW YEAR!
Thanks for visiting the website and Happy 2019. It is a GREAT time to get a tractor or a tractor package. Why? Hitchin' Post is offering a FREE box blade with any tractor or tractor package. This is a $700 to $850 savings depending on the horsepower and that means that you can get a superior Kioti tractor, front loader and implement at a LOW price or you can get an incredible tractor package with implements PLUS a FREE box blade at an affordable price. Kioti tractors are exceptional and Hitchin' Post has a great selection. Check out our line-up. Give us a call – we will assist you in putting the perfect package together for your property and don't forget we deliver it to you for FREE.
It is the end of the year CLEARANCE sale on trailers. All of our 2018 models are priced super LOW to move quickly. What does this mean for you? It is a great time to get a new, high quality trailer and save money. We have raft trailers by the Trailer Guy, steel and aluminum trailers by Midsota and Aluma PLUS a number of car haulers or flatbeds. Don't wait – check out the website and take these trailers home before someone else does.
Do you need trailer or car repair? Hitchin' Post can assist you with wheel / bearing pack, tire repair, electrical repair, brakes. We also sharpen chainsaw loops and carry a large selection of Husqvarna parts such axes, chains, chaps and work pants or gloves. Come visit Gerry, Bill, Alex or Carol and get to know how Hitchin' Post can assist you this winter.
Finally, it's time to rent……we have a number of handy tools to assist with chores such as backpack blower, power washer, weed trimmers and a log splitter. Don't forget about our 34HP Kioti Tractor with loader and rear blade or backhoe PLUS a nice selection of trailers. The Kiefer stock trailer or the 14' Midsota Dump trailer are big helpers when it comes to hauling things. Hitchin' Post Rentals is an excellent source for tractor or trailer rental.
Hitchin' Post has been serving the Woodland Park, Divide, Buena Vista, Salida, Fairplay and Colorado Springs area for over 20 years. We carry superior products at affordable prices and have an excellent selection of trailers and tractor for rent. Our staff is friendly and knowledgeable. Give us a call, send us an email, like us on Facebook – let us know how we can assist you!
Thanks for reading, Deb Reuter (owner)