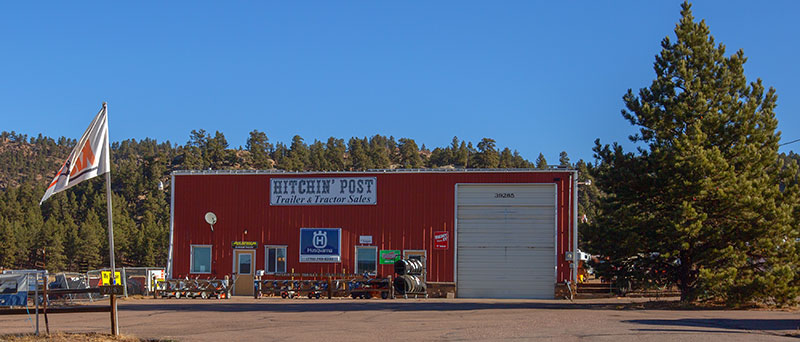 FALL SAVINGS
Thanks for checking out our website. This Fall Hitchin' Post has a HUGH SALE on Kioti (coyote) DK and NX tractors with an additional $1500 off the price. The tractors are 45 to 60 horse power and come with front loaders, 4WD, rear differential, gear or hydrostatic transmission and Cab or open stations PLUS a rear grader or box blade. Kioti produces an exceptional tractor equivalent to Kubota or Deere and with this sale you can get a HIGH quality tractor at a LOW price. If you don't need 45HP or greater, we have a nice selection of smaller tractors such as the CK2610 gear drive or a CK3510HST. Hitchin' Post has a couple of tractor – trailer plus 5 implements packages available. The tractor package is an ideal way to get all the implements that you need PLUS an 18' flatbed trailer to haul everything. DON'T MISS this incredible SALE on tractors and packages – snow is around the corner. Please consider us when evaluating a tractor purchase and come out to DRIVE a superior Kioti tractor.
The October SPECIAL is a FREE spare with the purchase of Wells Cargo enclosed trailer. This is an additional $100 savings and Hitchin' Post has a nice selection of 6x10's, 6x12's, 7x14's and 7x16's with V-nose, ramp doors or rear barn doors. There are many added features such as side vents, extra height, stabilization jacks and floor ties. You can haul all sorts of things with these well-built enclosed trailers. DON'T MISS this sale for the month. We have a nice selection of Raft trailers that are priced low – 7x12, 7x14, Low Profile or a Pipe Deck with Extra Rollers. There is still time to get exceptional deals on high quality trailers. Check out the incredible selection of trailers at Hitchin' Post.
Cold weather is coming with the temperature dropping. We have a terrific special on winterizing your camper or RV. Give us a call to schedule. Do you need trailer or car repair? Hitchin' Post can assist you with wheel / bearing pack, tire repair, electrical repair, brakes. We also sharpen chainsaw loops and carry a large selection of Husqvarna parts such axes, chains, files, chaps and work pants or gloves. Come visit Gerry, Bill, Alex or Ron and get to know how Hitchin' Post can assist you this fall.
Finally, it's time to rent……we have a number of handy tools to assist with chores such as backpack blower, power washer, weed trimmers, log splitter and garden tractor. Don't forget about our 34HP Kioti Tractor with loader and rear blade or backhoe PLUS a nice selection of trailers. The Kiefer stock trailer or the Circle D 18' flatbed trailer are big helpers when it comes to hauling things. Hitchin' Post Rentals is an excellent source for tractor, trailer or tool rental.
Hitchin' Post has been serving the Woodland Park, Divide, Buena Vista, Salida, Fairplay and Colorado Springs area for over 20 years. We carry superior products at affordable prices and have an excellent selection of equipment for rent. Our staff is friendly and knowledgeable. Give us a call, send us an email, like us on Facebook – let us know how we can assist you!
Thanks for reading, Deb Reuter (owner)