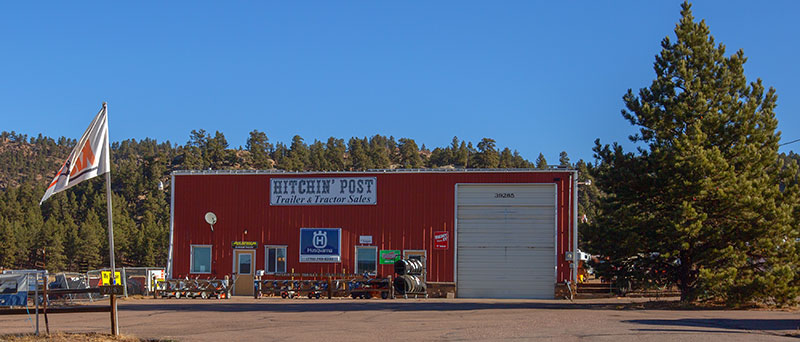 HAPPY NEW YEAR!
Welcome to our website! Snow is here and so is the need for a tractor. Hitchin' Post carries a nice selection of 24 to 60 horse power Kioti (coyote) tractors with 4 wheel drive, rear differential and gear or hydrostatic transmission. Our standard tractor purchase comes with a front loader, engine block heater, rear wheel ballast and a rear or box blade PLUS delivery anywhere in Colorado. Hitchin' Post also carries a good selection of rear implements and front bucket attachments such as a triple bale spear or pallet forks. Our January SPECIAL is an additional $1500 off all tractor – trailer packages. The package includes the tractor (as described above), front loader, 5 implements of your choice and a 18' tandem axle flatbed trailer. The tractor-trailer package is an ideal way to get all the implements that you need PLUS a trailer to get it home. As snow continues and you need a tractor, please consider us and come out to DRIVE a superior Kioti tractor.
For the month of January, ALL Aluma trailers are an additional $100 off the website price. This is a super time to pick up a high quality, lightweight aluminum trailer at a REALLY LOW price. These trailers are perfect for hauling ATV's, rafts, cars, jeeps or multiple UTV's. Check out the incredible selection on the website. Don't miss this special sale! Now is the time to get an aluminum trailer!
Are you looking to purchase a cargo trailer? Hitchin Post has a huge selection of enclosed trailers by Wells Cargo. We have 6x10, 6x12, 7x12, 7x14 and 7x16's with V-nose fronts, single or tandem axles, barn doors or ramps with lots of extras AND a REDUCED PRICE. Midsota Manufacturing makes a superior utility and flatbed trailer. Hitchin' Post has a 16' 2-place ATV trailer and a 12' utility trailer reduced. Don't miss these deals - the trailers are high quality and priced LOW.
This month when you buy a Husqvarna chainsaw of $400 or greater (Ranchers or Professional), you receive a FREE Powerbox (Carry Case) $35 value. This is a great value and keeps all of your needed tools close to your saw. Hitchin' Post has a nice selection of Husqvarna files, wedges, spark plugs, gloves, Forestry Helmet, fuel, oil, and safety clothing. ALL of our Husqvarna equipment is priced equivalent to the "Big Box" stores. You don't have to make a trip to the Springs for Husqvarna equipment – Come to Hitchin' Post!
Do you have a welding or fabrication job? Does your trailer or tractor need repair? Winter Labor Rate ($65 per hour) is now happening. Don't miss this GREAT opportunity to have quality work by our shop performed at a very LOW hourly labor rate. Give us a call and schedule it.
Hitchin' Post is located in Lake George and has assisted the Woodland Park, Divide, Buena Vista, Salida, Fairplay and Colorado Springs area for over 20 years. We have superior products at affordable prices and strive to provide high quality repair and service. Our staff is friendly and knowledgeable - give us a call, send us an email, like us on Facebook!
Thanks for reading, Deb Reuter (owner)