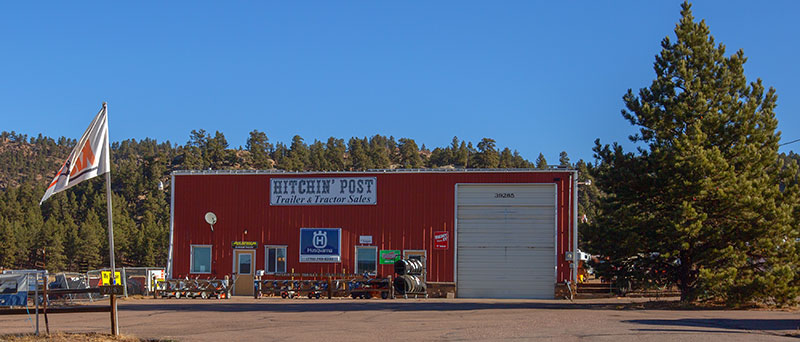 HOT SUMMER CLEARANCE SALES
Thanks for checking out our website. Hitchin' Post has a HUGH SALE on Kioti (coyote) tractors and UTV's. All of our 24 to 60 horse power tractors are $500 to $1500 off depending on the HP. The tractors come with 4 wheel drive, rear differential, gear or hydrostatic transmission and Cab or open stations PLUS front loaders, rear implements and front bucket attachments such as a bale spear or pallet forks. Kioti produces an exceptional tractor equivalent to Kubota and Deere and with this sale you can get a HIGH quality tractor at a LOW price. The Kioti diesel utility vehicle called K-9 is also on clearance. We have lowered the price on this unit by an additional $1000 and you get a FREE glass windshield and sun canopy. Come check out the Kioti equipment and take a test drive. We will hold this incredible SALE until all of the current models are gone - DON'T MISS THIS OPPORTUNITY to get a high quality tractor or K9 at a low price.
This summer when you buy a Rancher chainsaw or XP Professional saw from Hitchin' Post, you receive $25 gift certificate. This gift can be applied to the purchase of Husqvarna safety equipment or clothing. We have Forestry Helmets, shirts, jackets, glasses, gloves – lots of high visibility / safe clothing. Don't miss this special "give-away". With all of the increased grass growth, do you need a trimmer or brush cutter? We have a large selection of wheeled trimmers, handheld trimmers and brush cutting clearing saws. ALL of our Husqvarna equipment is priced equivalent to the "Big Box" stores. You don't have to make a trip to the Springs for lawn and garden equipment – Come to Hitchin' Post!
Hitchin' Post has a number of high quality aluminum and steel trailers by Midsota, Aluma and Wells Cargo. The Midsota line is built in Avon Minnesota and we have 14' dump trailers with hydraulic jacks, 2 place ATV trailers, 6x12 SA utility trailers plus 18' flatbeds. Our aluminum trailers are built by Aluma in Bancroft, Iowa. Currently we have a huge selection of utility trailers perfect for hauling your ATV's. Do you need an enclosed cargo trailer? Hitchin' Post has a large selection of single and tandem axle trailers by Wells Cargo. These trailers are perfect for hauling equipment, UTV's or storage. Check out the trailer choices at Hitchin' Post.
Finally, it's time to rent……we have a number of handy tools to assist with chores such as backpack blower, power washer, weed trimmers, log splittler and garden tractor. Don't forget about our 34HP Kioti Tractor with loader and rear blade or backhoe PLUS a nice selection of trailers. The Kiefer stock trailer or the 14' Midsota Dump trailer are big helpers when it comes to hauling things. Hitchin' Post Rentals is an excellent source for tractor or trailer rental.
Hitchin' Post is located in Lake George and has assisted the Woodland Park, Divide, Buena Vista, Salida, Fairplay and Colorado Springs area for over 15 years. We have superior products at affordable prices and strive to provide high quality repair and service. Our staff is friendly and knowledgeable - give us a call, send us an email, like us on Facebook!
Thanks for reading, Deb Reuter (owner)