TRAILER SPECIALS

Featherlite 20' Aluminum Stock Trailer with Tack - $15500


18' Flatbed by SporTrail - $2650

24' Aluminum Stock Trailer by Featherlite - $18700


MCT Towable Motorcycle Trailer by Aluma - $2125


4H Trails West Living Quarter - $20500
New Kioti Tractors and Featherlite Trailers are arriving!
Spring is here – I see leaves in the trees and flowering buds!! It has been a long and cold winter. Welcome to our website…..Hitchin' Post has specials on Kioti Tractors – our new line of compact tractors. These tractors provide tremendous value for the home owner or rancher that needs to do more on their land. Check out the implements we have such as mowers, bale spears, angle and box blades, etc. We have superior quality, reasonably priced flatbeds by SporTrail for hauling your tractor or hay. Show season for our horse owners is around the corner – check out the new and used horse trailers that we have. Featherlite is a quality manufacturer of aluminum trailers that deliver on comfort and superior design. Don't forget – Customer SERVICE is our primary goal so let us know how we can serve you in our products, repair, service or rental. Hitchin' Post is a key resource serving the Woodland Park, Divide, Buena Vista and Colorado Springs area. Check out the website and give us a call or stop in- see you soon!

Product Manufacturers:



Kioti SPECIALS for April to May
Free Front Loaders are available for CK, DK Series. Cash off for many purchases - call us for details and prices! Financing purchase: 0% financing for up to 4 years plus the additional rebates.
Call us with questions and prices!! Let us know how we can serve you.......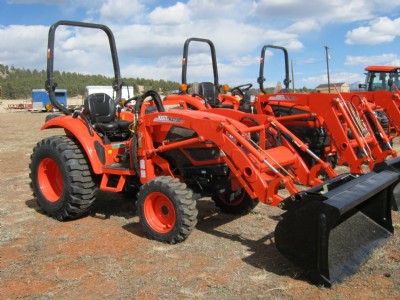 Kioti Tractors are HERE!! CK27's, DS4510, DK45's - Call us for prices.....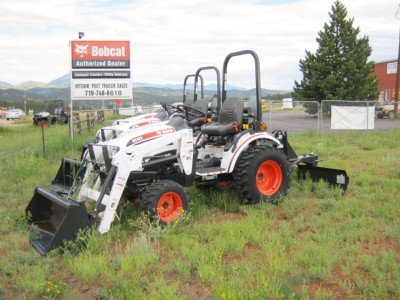 Bobcat SPECIAL!! 22HP Compact Tractors with Loaders - Low Price!!
---
USED TRACTORS