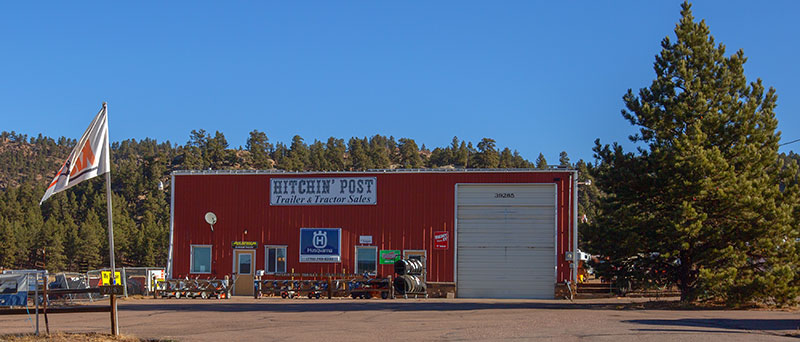 FREE BOX BLADE SPECIAL
Thanks for visiting our website! Are you thinking of buying a tractor? Hitchin' Post is offering a FREE box blade with any tractor purchase. This is a $700 to $850 savings depending on the horsepower. Kioti tractors are high quality and come with 4 wheel drive, rear differential, gear or hydrostatic transmission, PLUS front loaders, rear implements and front bucket attachments such as a bale spear or pallet forks. A Kioti tractor is equivalent to a Kubota or a Deere in performance but superior to these competitors when you evaluate the tractor and all components vs the price. Did you know that Hitchin' Post has a large pit and field to test drive tractors? This is the perfect opportunity to check out Kioti quality, meet the friendly staff and take advantage of this GREAT special.
This month's Special for our Wells Cargo trailers is a FREE spare tire with your purchase. This is a $125 to $225 savings depending on the axle and weight capacity of the trailer. Wow – you don't want to put off the purchase of a cargo trailer if you have been considering it. Wells Cargo produces a superior enclosed trailer with many features such as stabilization jacks, extra height, rear ramp or barn doors in many sizes, widths and heights PLUS a 1 to 3 year manufacturer warranty. They are perfect for hauling your ATV's, moving your precious cargo or storage. Hitchin' Post has a great selection of Wells Cargo trailers – don't miss this additional SAVINGS. This is the time to get a high quality enclosed trailer at low price.
It's time to purchase quality and get a Husqvarna. ALL of our chainsaws are at LOW prices and this month when you purchase a chainsaw you receive an additional $25 gift certificate for merchandise such as bar oil, chain loops, safety glasses, ear protection, chaps – anything made by Husqy. A second Husqvarna special is zero turn mowers or garden tractors. We have a good selection of mowers in different widths and horsepower. Hitchin' Post has slashed the original price and put everything on CLEARANCE. Take advantage of this sale and get the mower that you will need for this year and years to come. Buy Husqvarna!
Does your camper need to be winterized? Need a chainsaw tune up? Does your chainsaw loops need to be sharpened? These are the monthly SPECIALS for our shop. Give us a call to inquire and schedule.
Winterization - Spring Rinse $125 Chainsaw Tune Up $45 (saw must run)
Chain Loop Sharpening $7.50
Hitchin' Post has been serving the Woodland Park, Divide, Buena Vista, Salida, Fairplay and Colorado Springs area for over 20 years. We carry superior products at affordable prices and have an excellent selection of equipment for rent. Our staff is friendly and knowledgeable. Give us a call, send us an email, like us on Facebook – let us know how we can assist you!
Thanks for reading, Deb Reuter (owner)