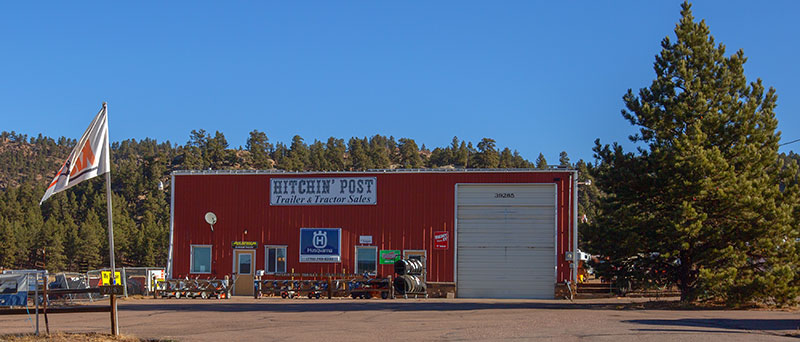 SUMMER SPECIAL – FREE Front Loader Discounts
Welcome to our website! Summer is here and it is time to think about a tractor. Hitchin' Post carries a selection of 24 to 50 horse power Kioti (coyote) compact tractors with 4 wheel drive, rear differential and gear or hydrostatic transmission. All our tractor purchases come with a front loader, engine block heater, rear wheel ballast and a rear grader blade PLUS free delivery anywhere in Colorado. Hitchin' Post also has rear implements and front bucket attachments such as a triple bale spear or pallet forks. There are a couple of specials that we will offer this Summer - FREE front loaders for all cash or interest rate purchases ($2000 to $4500 saving) or LOW rate financing for folks that want to purchase at 0% to 1.99% (no discounts) PLUS a 44HP HST DK tractor with a front loader, rear blade, pallet forks and a rotary brush mower. This SUMMER package is $5500 off the original purchase price and gives you an excellent selection of implements to get all of your summer work done. Hitchin' Post is interested in assisting you 100% of the way on your tractor purchase so give us a call with questions. Please come and drive our exceptional Kioti tractors.
The July trailer SPECIAL is a FREE spare with the purchase of a Wells Cargo enclosed trailer. This is an additional $250 savings and Hitchin' Post has a excellent selection of 10', 12', 14', 16' and 20' trailers with V-nose, ramp doors or rear barn doors. There are many added features on these cargo trailers such as side vents, extra height, stabilization jacks and floor ties. You can haul all sorts of things with these well-built enclosed trailers. DON'T MISS this sale! Come see the incredible selection of trailers at Hitchin' Post or check out the detailed website.
Our mechanics are ready for summer jobs. Hitchin' Post can assist you with steel or aluminum welding, trailer bearings pack and electrical work, Husqvarna chain saw service and loop sharpening, Kioti tractor service and repair. We take pride in the work that we have done for customers. Give us a call to discuss the issue and schedule.
Lots of things have been happening with Hitchin' Post Rentals – we are now renting tools and have a nice selection: rototiller, chainsaw, power washer, weed trimmers, log splitter or Kioti Zero Turn mower. Don't forget the 34HP Kioti tractor with a front loader and rear rotary mower, blade, auger or backhoe. This is an excellent way to get your projects done and see a quality tractor in action. If you need to haul things, we rent these trailers – 6x12 open utility, 18' tandem axle flatbed or an 18' stock trailer. Check out the rental website for pictures / rates and get renting to complete your summer activities.
Hitchin' Post has been serving the Woodland Park, Divide, Buena Vista, Salida, Fairplay and Colorado Springs area for over 20 years. We carry superior products at affordable prices and have an excellent selection of trailers and tractor for rent. Our staff is friendly and knowledgeable. Give us a call, send us an email, like us on Facebook – let us know how we can assist you!
Thanks for reading, Deb Reuter (owner)