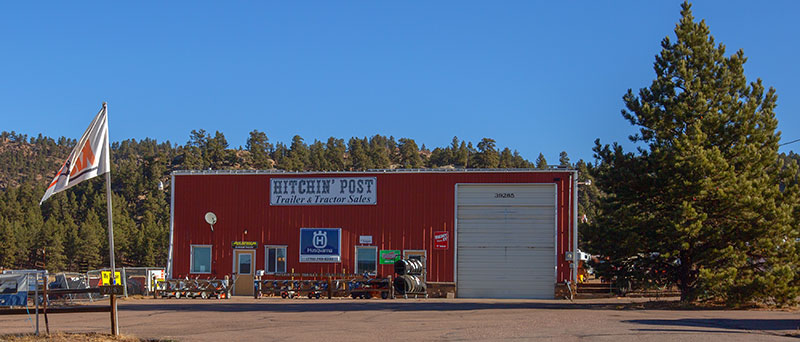 END OF YEAR SALES – DON'T MISS THEM !!
$500 OFF BLACK / ORANGE FRIDAY SALE until November 30th. Take an additional $500 OFF of the Hitchin' Post low price on a KIOTI CS CX or CK2610 tractor.
Welcome to our website! Snow is coming and so is the need for a compact tractor. Hitchin' Post carries a selection of 24 to 50 horse power Kioti (coyote) compact tractors with 4-wheel drive, rear differential and gear or hydrostatic transmission. All our tractor purchases come with a front loader, engine block heater, rear wheel ballast and a rear grader blade PLUS free delivery anywhere in Colorado. Hitchin' Post also has rear implements and front bucket attachments such as a triple bale spear or pallet forks. This is an excellent time to get a tractor because you get a FREE Box Blade with every purchase. This is a $1200 to $1400 discount depending on the size of tractor that you buy. If you don't need a box blade, then you can take $650 off the price or apply it to the purchase of another implement. Hitchin' Post and Kioti are still offering the FREE front loaders for all cash or interest rate purchases ($2000 to $4500 saving) or LOW rate financing for folks that want to purchase at 0% to 2.99% (no discounts). Hitchin' Post is interested in assisting you 100% of the way on your tractor purchase so give us a call with questions. Please come and drive our exceptional Kioti tractors and don't miss this special savings.
Hitchin' Post is offering a huge End of the Season Sale on all Wells Cargo trailers. We are lowing ALL of the prices PLUS offering a FREE spare tire and rim with your purchase. This is a tremendous savings depending on the size and axle capacity of the trailer. Wow – you don't want to miss this sale if you have been considering purchasing an enclosed trailer. Wells Cargo produces a superior line of trailers with many features such as stabilization jacks, extra height, rear ramps or barn doors in many sizes, widths and heights PLUS a 1 to 3 year manufacturer warranty depending on the model. Currently Hitchin' Post has a great selection of Wells Cargo trailers. Give us a call with questions – see our listed inventory and come purchase a high quality trailer at a low price.
TRACTOR / TRAILER PACKAGE: Hitchin' Post finally has car haulers for hauling your tractor and we are offering some great deals on tractor packages. This is an ideal way to get all the implements that you need and an 18' flatbed trailer to haul everything plus take an additional $500 off the price for picking it up in Lake George. Our current package is a CX2510HST tractor, 5 implements and a 18' tandem axle trailer for $30, 250. Wow – what a low price for a package with a Kioti HST tractor!
Do you need trailer or Kioti tractor repair as you get ready for winter? Hitchin' Post can assist you with bearing packs, tire and electrical repair, brake adjustments, oil changes and service for hours – you name it….we have a highly qualified staff to assist you. How is your chainsaw running? We have a Husqvarna certified repair mechanic and he is a whiz with saws. Hitchin' Post can also sharpen any chainsaw loops. Give us a call with questions or to schedule.
Hitchin' Post has been serving the Woodland Park, Divide, Buena Vista, Salida, Fairplay and Colorado Springs area for over 20 years. We carry superior products at affordable prices and have an excellent selection of equipment for rent. Our staff is friendly and knowledgeable. Give us a call, send us an email, like us on Facebook – let us know how we can assist you!
Thanks for reading, Deb Reuter (owner)