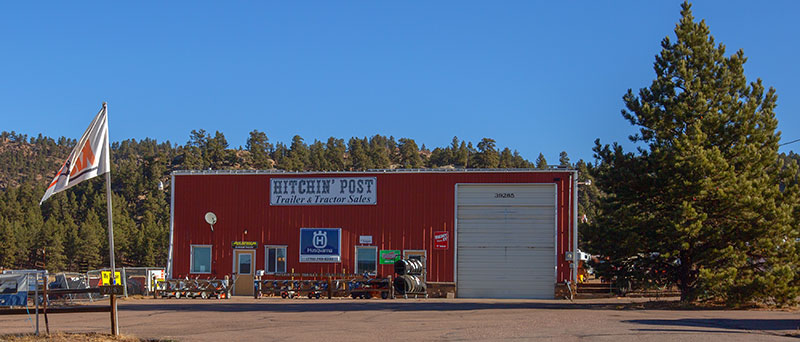 FREE 3pt Rear Auger with Bit with EVERY New Tractor Purchase
Thanks for visiting our website! Are you thinking of buying a tractor? Hitchin' Post is offering a FREE 3pt rear auger and bit (9" or 12") with any tractor purchase. This is a $1250 to $1400 savings depending on the tractor horsepower. Kioti tractors are high quality and come with 4 wheel drive, rear differential, gear or hydrostatic transmission PLUS front loaders, rear implements and front bucket attachments such as a bale spear or pallet forks. A Kioti tractor is equivalent to a Kubota or a Deere in performance but superior to these competitors when you evaluate the tractor and all components vs the price. Did you know that Hitchin' Post has low prices on their Kioti tractors with the free front loader discount that can be applied at purchase. Additionally, Kioti is still offering low interest rates of 0% to 1.99% if you don't want to take the cash purchase discount. It is an excellent time to get a tractor and Hitchin' Post's qualified staff can assist you with all of your questions. Please consider us and come out to DRIVE a superior Kioti tractor.
Hitchin' Post has a number of high quality aluminum and steel trailers by Midsota, Aluma and Wells Cargo. The Midsota line is built in Avon Minnesota and we have 14' dump trailers with side door and a rear 3 way gates with tarps. Our aluminum trailers are built by Aluma in Bancroft, Iowa. Currently we have a huge selection of utility trailers perfect for hauling your ATV's. Do you need an enclosed cargo trailer? We has a large selection of single and tandem axle trailers by Wells Cargo. These trailers are perfect for hauling equipment, UTV's or storage. Remember Hitchin' Post carries superior products and LOW prices so check out our inventory and come see the trailers.
Our mechanics are ready for summer jobs. Hitchin' Post can assist you with steel or aluminum welding, trailer bearings pack and electrical work, Husqvarna chain saw service and loop sharpening, Kioti tractor service and repair. We take pride in the work that we have done for customers. Give us a call to discuss the issue and schedule.
Lots of things have been happening with Hitchin' Post Rentals – we are now renting tools and have a nice selection: rototiller, chainsaw, power washer, weed trimmers, log splitter or Kioti Zero Turn mower. Don't forget the 34HP Kioti tractor with a front loader and rear rotary mower, blade, auger or backhoe. This is an excellent way to get your projects done and see a quality tractor in action. If you need to haul things, we rent these trailers – 6x12 open utility, 18' tandem axle flatbed or an 18' stock trailer. Check out the rental website for pictures / rates and get renting to complete your summer activities.
Hitchin' Post has been serving the Woodland Park, Divide, Buena Vista, Salida, Fairplay and Colorado Springs area for over 20 years. We carry superior products at affordable prices and have an excellent selection of trailers and tractor for rent. Our staff is friendly and knowledgeable. Give us a call, send us an email, like us on Facebook – let us know how we can assist you!
Thanks for reading, Deb Reuter (owner)