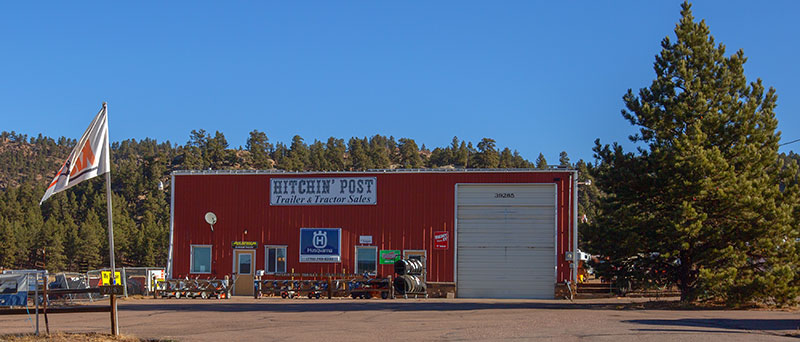 MARCH MADNESS
Welcome to the website! Snow just keeps happening and it is time to mix it up with HUGH SAVINGS. If you are considering a tractor, now is the time. We have 24 to 60 horse power Kioti (coyote) tractors with 4 wheel drive, rear differential, gear or hydrostatic transmission and Cab or open stations (ROPS). The tractors come with front loaders, rear implements and front bucket attachments such as a bale spear or pallet forks. It's MARCH MADNESS and ALL of our tractors have additional cash off - $500 to $1500 depending on horsepower. Kioti produces an exceptional tractor equivalent to Kubota and Deere and with the additional discounts, you can get a HIGH quality tractor at a really, low price. Did you know that Hitchin' Post has a large pit and field to test drive tractors? This is the perfect opportunity to check out Kioti quality and meet the friendly staff. Come check out the tractors and test drive – don't miss this incredible sale!
March brings GREAT deals on superior trailers. Hitchin' Post has enclosed trailers by Wells Cargo and there are a number of different sizes to choose – 6x10, 6x12, 7x12, 7x14, 7x16, 8.5x16 and 8.5x20. These cargo trailers come with single or tandem axles plus ramps, barn and side doors and ties for hauling all of your goodies. During March, you get a free spare with every purchase of a Wells Cargo trailer - $125 value. Don't miss this special. Are you needing an open utility trailer to haul your ATV? We have aluminum trailers by Aluma and steel trailers by Midsota Manufacturing. Check out the high quality and exceptional build on these trailers. There is a large selection of sizes on the website and they are priced to move.
$50 gift card drawing AGAIN – it was popular and it is an excellent way to get high quality Husqvarna equipment for FREE. With every purchase of Husqvarna products, you enter the drawing at the end of the month - imagine the tools and projects possible with an extra $50. Husqvarna produces superior chainsaws and lawn / garden equipment for years. Hitchin' Post has a nice selection of these items including files, wedges, spark plugs, gloves, Forestry Helmet, fuel, oil, and safety clothing PLUS lots of chainsaws. ALL of our equipment is priced equivalent to the "Big Box" stores. You don't have to make a trip to the Springs for Husqvarna equipment – Come to Hitchin' Post and enter the drawing.
Do you need trailer, tractor or car repair? Hitchin' Post can assist you with wheel / bearing pack, tire repair, electrical repair, brake adjustment, oil changes, service for hours – you name it….we have a highly qualified staff to assist. How is your chainsaw running? We have a Husqvarna certified repair mechanic and he is a whiz with saws. Alex can also sharpen any chainsaw loops that you have. Give us a call to schedule or stop by and visit Gerry, Bill, Alex or Ron for details on your repair needs.
Hitchin' Post has been serving the Woodland Park, Divide, Buena Vista, Salida, Fairplay and Colorado Springs area for over 20 years. We carry superior products at affordable prices and have an excellent selection of trailers and tractor for rent. Our staff is friendly and knowledgeable. Give us a call, send us an email, like us on Facebook – let us know how we can assist you!
Thanks for reading, Deb Reuter (owner)