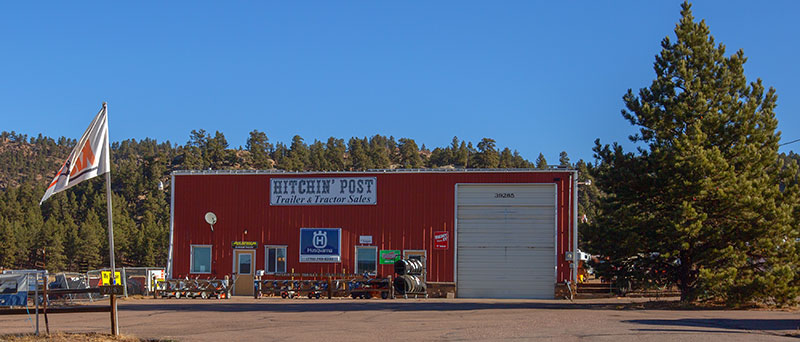 AUGUST SPECIALS!
Welcome to our website! We look forward to meeting you. Hitchin' Post has some good deals on Kioti (coyote) compact tractors with cash discounts and zero percent interest financing on all models. We have 24 to 50 horse power Kioti tractors with 4 wheel drive, rear differential and gear or hydrostatic transmission. The tractors come with front loaders, rear implements and front bucket attachments such as a triple bale spear or pallet forks. In August, you will find additional discounts when you pay with cash or finance with an low interest rate. If you like 0% financing, we take the original tractor price and can include all sorts of Kioti implements. Kioti produces an exceptional tractor equivalent to Kubota and Deere and with the summer special, you can get a HIGH quality tractor at a low price. Did you know that Hitchin' Post has a large pit and field to test drive tractors? This is the perfect opportunity to check out Kioti quality and meet the friendly staff. Come check out the tractors and test drive!
Hitchin' Post has received a new order of steel and aluminum utility trailers from Midsota and Aluma. The Midsota line now available are high quality, commercial grade flatbed trailers with ramps and tilt deck. These trailers are perfect for cars, tractors and heavy equipment. Aluma trailers are constructed with aluminum. These superior trailers are strong, light weight and maintain their value for years. Both of these trailers lines are constructed in the U.S. Check out the new selection of aluminum and steel trailers available at Hitchin' Post.
It's time to purchase quality and get a Husqvarna chainsaw or mower. ALL of our chainsaws are at LOW prices and this month when you purchase a chainsaw you receive an additional $25 gift certificate for merchandise such as bar oil, chain loops, safety glasses, ear protection, chaps – anything made by Husqy. A second Husqvarna special is zero turn mowers and garden tractors. We have a nice selection of riding mowers (Zero Turn or Garden Tractor) and Hitchin' Post has slashed the original price by $250. It is a HUGE SAVINGS on mowing machines. You will accomplish lots of mowing this summer and HAVE FUN! Don't miss these great deals on Husqvarna equipment.
Do you have a welding or fabrication job? Does your trailer or tractor need repair? Need Husqvarna repair, chainsaw tune up or your chainsaw loops sharpened? Need new tires for your trailer or bearings lubed? Hitchin' Post mechanics – Gerry, Bill and Alex are ready to assist you with parts, repairs and service on your equipment. Give us a call to inquire and schedule.
Lots of things have been happening with Hitchin' Post Rentals – we are now renting tools and have a nice selection: rototiller, chainsaw, power washer, weed trimmers, log splitter, zero turn mower or garden tractor. Don't forget the 34HP Kioti tractor with a front loader and rear rotary mower, blade, auger or backhoe. This is an excellent way to get your projects done and see a quality tractor in action. If you need to haul things, we rent these trailers – 6x12 utility, 18' tandem axle flatbed, 14' dump or an 18' stock. Check out the rental website for pictures / rates and get renting to complete your summer activities.
Hitchin' Post is located in Lake George and has assisted the Woodland Park, Divide, Buena Vista, Salida, Fairplay and Colorado Springs area for over 20 years. We have superior products at affordable prices and strive to provide high quality repair and service. Our staff is friendly and knowledgeable - give us a call, send us an email, like us on Facebook!
Thanks for reading, Deb Reuter (owner)