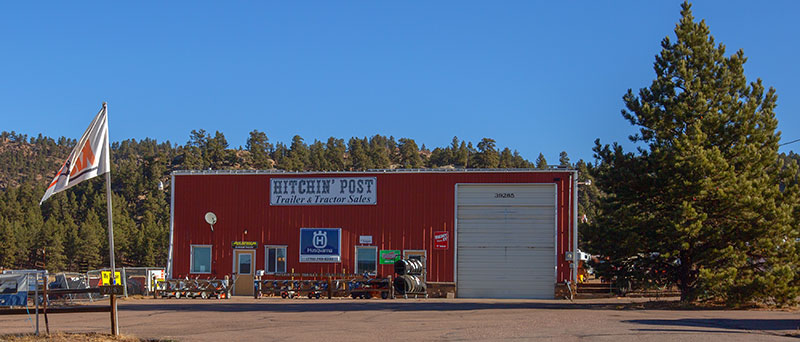 TRACTOR SPECIALS
Thanks for visiting our website! Are you thinking of buying a tractor Kioti (coyote) tractors are perfect for lots of jobs. We have 24 to 50 horse power tractors with 4 wheel drive, rear differential and gear or hydrostatic transmission. The tractors come with front loaders, rear implements and front bucket attachments such as a snow blade or pallet forks. Kioti and Hitchin' Post are offering FREE front loaders with the tractor ($2000 to $4500 savings) for a cash or interest rate purchase. Are you interested in low rate financing? Kioti has 0% for up to 84 months on select models and we can assist you with selecting a tractor, loader plus implements that fits your budget. Hitchin' Post has free delivery anywhere in Colorado. Please consider Hitchin' Post during your tractor purchase and come out to DRIVE a superior Kioti tractor.
With this change in seasons, it is time to get everything trimmed and cleaned up. Hitchin' Post has a nice selection of Husqvarna products which will assist you in handling nature. If you need a cart to move yard items, we have a selection of these in steel or black Poly - perfect for your ATV or garden tractor. Hitchin' Post has a large number of chainsaws from the 400 series to XP Professional including the Ranchers. Tackle those tree issues with a new chainsaw! We carry all of the necessary equipment for your saw and safety - files, wedges, spark plugs, gloves, Forestry Helmet, fuel, oil, and chaps. ALL of our Husqvarna equipment is priced equivalent or lower than the "Big Box" stores. You don't have to make a trip to the Springs for lawn and garden items. Come to Hitchin' Post.
Lots of things have been happening with Hitchin' Post Rentals – we are now renting tools and have a nice selection: rototiller, chainsaw, power washer, weed trimmers, log splitter or Kioti Zero Turn mower. Don't forget the 34HP Kioti tractor with a front loader and rear rotary mower, blade, auger or backhoe. This is an excellent way to get your projects done and see a quality tractor in action. If you need to haul things, we rent these trailers – 6x12 open utility, 18' tandem axle flatbed or an 18' stock. Check out the rental website for pictures / rates and get renting to complete your summer activities.
Hitchin' Post is located in Lake George and has assisted the Woodland Park, Divide, Buena Vista, Salida, Fairplay and Colorado Springs area for over 20 years. We have superior products at affordable prices and strive to provide high quality repair and service. Our staff is friendly and knowledgeable - give us a call, send us an email, like us on Facebook!
Thanks for reading, Deb Reuter (owner)