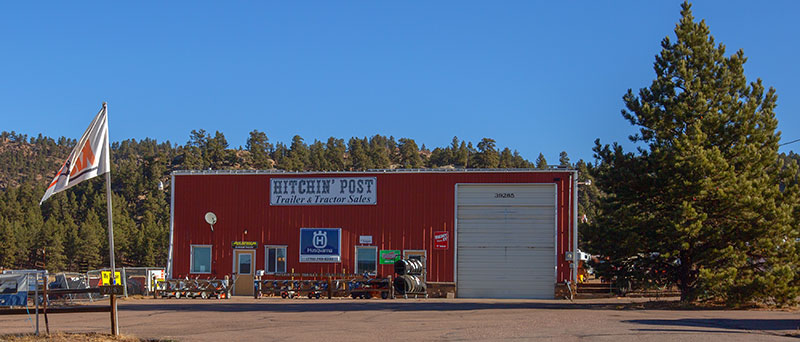 September SAVINGS
Welcome to our website! Fall is around the corner, SNOW will be coming and it is time to consider a tractor. We have 24 to 60 horse power Kioti (coyote) tractors with 4 wheel drive, rear differential and gear or hydrostatic transmission. The tractors come with front loaders, rear implements and front bucket attachments such as a triple bale spear or pallet forks. Our September specials are 34HP HST tractor packages. The tractor package is an ideal way to get all the implements that you need PLUS an 18' flatbed trailer to haul everything. As cold weather is approaching, Hitchin' Post will make that transition much easier with September SAVINGS ($1500 off) all Cab tractors. These cab tractors come with CD-Radio players, deluxe seats, cruise control, push button PTO and many more features – Super Comfort. Kioti is continuing to offer large cash discounts or 0% financing for 60 months on all models of tractors. Hitchin' Post has FREE DELIVERY anywhere in Colorado. Please consider us when evaluating a tractor purchase and come out to DRIVE a superior Kioti tractor.
Hitchin' Post is having an END OF SEASON Sale on all Zero turn mowers, garden tractors and wheeled trimmers. If you have been considering one of these to take care of the grass and weeds, now is the time to buy. We have a large selection of Husqvarna chainsaws at low prices – 435's, 440's, Ranchers and XP Professional saws. These saws give you the tools to handle all your wood cutting needs. Hitchin' Post carrys a large selection of fuel, bar oil, safety equipment, files and parts. ALL of our Husqvarna equipment is priced equivalent to the "Big Box" stores. You don't have to make a trip to the Springs for lawn and garden equipment – Come to Hitchin' Post!
This fall we have a number of high quality trailers by Aluma and Wells Cargo at really LOW prices. Check out this selection of Alumas - 14' car haulers, 10' and 14' tilt decks, large 2 place ATV trailers (8114, 8115, or 8116), 12' or 14' raft trailers and utility trailers (7710, 7712). Enclosed trailers by Wells Cargo are also reduced. Hitchin' Post has 6x10, 6x12, 7x14 and 7x16's with V-nose fronts, ramps with lots of extras – ON SALE. Check out the September savings on trailers!
Do you have a welding or fabrication job? Does your trailer or tractor need repair? Need Husqvarna repair or chainsaw tune up? Ready to order new tires and get them balanced? Hitchin' Post mechanics – Gerry, Bill, Alex and Ron are ready to assist you with parts, repairs and service on your equipment. Give us a call to schedule or inquire.
Don't forget Hitchin' Post Rentals – we have a 34HP Kioti tractor with a front loader, rear backhoe, rotary mower, blade or auger for rent. This is an excellent way to get your projects done and see a high quality tractor in action. Regarding trailer rentals, if you need to haul things, we rent these – 6x12 utility, 18' flatbed, 14' TA Dump or an 18' Stock. Additionally, this year we are renting tools such as a zero turn mower, wheeled trimmer, rototiller, log splitter, brush trimmer, power washer and push mower. Get everything accomplished with Hitchin' Post Rentals!
Hitchin' Post is located in Lake George and has assisted the Woodland Park, Divide, Buena Vista, Salida, Fairplay and Colorado Springs area for over 20 years. We have superior products at affordable prices and strive to provide high quality repair and service. Our staff is friendly and knowledgeable - give us a call, send us an email, like us on Facebook!
Thanks for reading, Deb Reuter (owner)