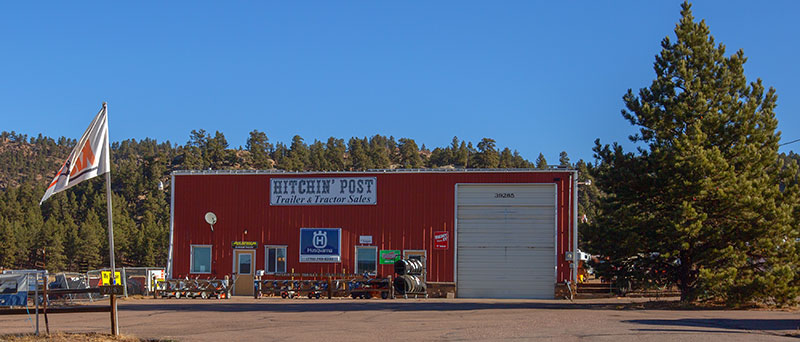 JUNE – FREE BOX BLADE SPECIAL
Welcome to our website! Are you thinking of a tractor? Hitchin' Post is offering a FREE box blade with any tractor or tractor package. This is a $700 to $850 savings depending on the horsepower and that means that you can get a superior Kioti tractor, front loader and implement at a LOW price or you can get an incredible tractor package with implements PLUS a FREE box blade at an affordable price. Kioti tractors are high quality and Hitchin' Post has a great selection. Check out our line-up. Give us a call – we will assist you in putting the perfect package together for your property and don't forget we deliver for FREE anywhere in Colorado. Don't miss this SPECIAL – it will ONLY last for the month of June.
Father's Day is coming up and ALL of our Husqvarna garden tractors will be $100 off until the 19th of June. This is an incredible deal – Hitchin' Post has LOW prices on all garden tractors and now you can take an additional $100 off. It is the perfect gift for Father's day. We also have a number of sales on Husqvarna products. ALL of our Rancher chainsaws and XP Professional saws are below list price. These saws give you the ability of handling all your wood cutting needs. Have you considered a blower or trimmer? We have a great selection of wheeled trimmers, handheld trimmers and blowers. ALL of our Husqvarna equipment is priced equivalent to the "Big Box" stores. You don't have to make a trip to the Springs for lawn and garden equipment – Come to Hitchin' Post!
We have a number of high quality aluminum and steel trailers by Midsota, Aluma and Wells Cargo. The Midsota line is built in Avon Minnesota and we have 14' dump trailers with hydraulic jacks, 2 place ATV trailers plus 18' flatbeds. Our aluminum trailers are built by Aluma in Bancroft, Iowa. Currently we have a huge selection of utility trailers perfect for hauling your ATV's. Do you need an enclosed cargo trailer? Hitchin' Post has a large selection of single and tandem axle trailers by Wells Cargo. These trailers are perfect for hauling equipment, UTV's or storage. Check out the trailer choices at Hitchin' Post.
Finally, it's time to rent……we have a number of handy tools to assist with chores such as backpack blower, power washer, weed trimmers and a log splitter. Don't forget about our nice selection of trailers - the Kiefer stock trailer or the 12' Utility Trailer are big helpers when it comes to hauling things. Hitchin' Post Rentals is an excellent source for tool or trailer rental.
Hitchin' Post has been serving the Woodland Park, Divide, Buena Vista, Salida, Fairplay and Colorado Springs area for over 20 years. We carry superior products at affordable prices and have an excellent selection of trailers and tractor for rent. Our staff is friendly and knowledgeable. Give us a call, send us an email, like us on Facebook – let us know how we can assist you!
Thanks for reading, Deb Reuter (owner)